The Netherlands
Rotterdam is a major port city as well as a vibrant and modern city located in the Netherlands, situated in the province of South Holland and is one of the largest and busiest ports in the world.
The city is known for its modern and innovative architecture. Due to extensive bombing during World War II, the city has a unique character. This led to extensive post-war reconstruction and the development of a modern skyline. Iconic structures include the Cube Houses, Erasmus Bridge, and the Markthal.
The history of Rotterdam is rich and diverse, reflecting its evolution from a modest fishing village to a thriving modern metropolis.
Rotterdam's origins can be traced back to the 12th century when a dam was constructed on the Rotte River, giving the city its name. It started as a small fishing village and gradually expanded due to its strategic location near important trade routes, such as the Rhine River. By the 15th century, Rotterdam had become a bustling port town with a growing maritime trade.
The 17th century was a period of significant growth for Rotterdam. The city benefited from the Dutch Golden Age, a time of economic prosperity and cultural flourishing in the Netherlands. Rotterdam's port was vital in this period, facilitating trade with various parts of the world. The city's urban layout was redeveloped with canals and new neighbourhoods.
The 19th century saw Rotterdam's transformation into an industrial city. The construction of the Nieuwe Waterweg, a deep and wide canal connecting Rotterdam to the North Sea, allowed larger ships to access the port. This infrastructure upgrade boosted Rotterdam's position as a major trading hub. The city's industries expanded, including shipping, manufacturing, and logistics.
Starting in the late 20th century, Rotterdam underwent a cultural and architectural renaissance. The city embraced innovative architectural designs, with landmarks like the Erasmus Bridge, Cube Houses, and the Markthal becoming iconic symbols of modern Rotterdam. The city also invested in cultural institutions and events, such as the North Sea Jazz Festival and the Museum Boijmans Van Beuningen.
Also, in the 21st Century, Rotterdam remains a dynamic global city with a strong focus on sustainability, innovation, and urban development. Projects like the Rotterdam Central District aim to revitalize urban areas, and sustainability initiatives strive to make the city more environmentally friendly. The port continues to adapt and expand, maintaining its crucial role in global trade.
Throughout its history, Rotterdam's identity has been shaped by its maritime heritage, economic vitality, and architectural innovation. It is a testament to resilience, adaptability, and a forward-thinking approach to urban development.
The population of Rotterdam, Netherlands, was estimated to be around 651,000 people. It is known for its diverse population, with a rich mix of cultures and nationalities. This cultural diversity is reflected in the city's cuisine, festivals, and events.
With its blend of modernity, history, and innovative spirit, Rotterdam offers a unique and captivating experience for tourists. More than 1.2 million hotel guests visit this vibrant city every year. Whether you're interested in architecture, art, maritime history, or simply soaking in the lively urban atmosphere, Rotterdam has something to offer for every type of traveler.
Rotterdam experiences a temperate maritime climate, which means that it generally has mild to cool summers.
Getting to the netherlands
Amsterdam Airport Schiphol has great transport links to all of the Netherlands. You can easily take the train, catch a bus or rent a car.
Schiphol Station is located directly below the airport. It only takes a few minutes to walk from Arrivals to Schiphol Plaza, where you can take the stairs, escalator or lift down to the platforms. A train ride to Rotterdam takes approximately 26 minutes.
Rotterdam The Hague Airport offers flights to around forty European destinations with frequent flights to Barcelona, Rome, Berlin and London. There are also multiple daily flights to many destinations, making it possible to fly back and forth in one day.
The centre of Rotterdam is only a fifteen-minute drive away by taxi or (rental) car. Public transport can also reach it in twenty to twenty-five minutes (RandstadRail combined with bus line 33).
Rotterdam Time is in the Central European Time Zone. Central European Standard Time (CET) is 1 hour ahead of Greenwich Mean Time (GMT+1).
Netherland is in the Eurozone and the euro (EUR/€) is its official currency. Foreign currency can be exchanged at banks and at exchange bureaus.
Health and Medical Services
The Dutch National Health Service does not cover visitors to the Netherlands, and emergency medical services are not free of charge. It is the responsibility of the delegate to obtain necessary insurance when travelling to the Netherlands.
The people in Rotterdam predominantly speak Dutch, which is the official language of the Netherlands. However, like in many places, you might find local variations and accents within the Dutch language that are influenced by the regional culture and history.
Rotterdam is located in the Netherlands and has a temperate maritime climate which is quite changeable due to its maritime influences. Weather conditions can shift quickly, so it's a good idea to be prepared for varying weather even within the same day.
Rotterdam experiences relatively consistent rainfall throughout the year. The wettest months are usually in the fall and winter, while the summer months are drier.
The City is known for its strong winds due to its location near the North Sea. Wind can be a significant factor in the city's weather, especially during the cooler months.
For the Netherlands there are two associated plug types, types C and F. Plug type C is the plug which has two round pins and plug type F is the plug which has two round pins with two earth clips on the side.  The Netherlands operate on a 230V supply voltage and 50Hz.

ENTRY REGULATIONS AND VISA APPLICATION
If you travel to the Netherlands, you may need a visa. Whether you need a visa, and which visa, depends among other things on your nationality. And whether you want to stay in the Netherlands for shorter or longer than 90 days.
We recommend you to check on this platform if you require a visa or not.
An application for a Schengen visa or an airport transit visa for the Netherlands is usually processed within 15 days. In some cases, however, it could take up to 45 days. 
Other documents are to be shown to enter the country. Please see more information here.
There is no transfer organized from ISF but we have taxi company with who we are working, where you can directly make your arrangement. Please find below the details:
By train
the first train to Rotterdam leaves at 4:03 AM and takes around 1 hour. The quicker connection (30 min) run three times an hour.
Go HERE to plan you travel.
By taxi
Your taxi will always stop right outside the departure and arrival halls. You can choose a regular taxi, a luxury Schiphol Business Taxi or a Schiphol Travel Taxi minibus.
Get in a taxi at Schiphol's official taxi rank in front of Schiphol Plaza, for a quick and easy onward journey. Always follow the signs for taxis so you know you are getting into an approved taxi. If you come to Schiphol by taxi, you will be dropped off in front of your departure hall.
Schiphol Travel Taxis are ideal for groups of no more than 8 travelers. You can also save money by sharing the costs with other travelers. In that case, the taxi will stop on the way to collect and drop-off other people, which can take a little longer. There are always Schiphol Travel Taxis available at the airport. That way, you can access many places in the Netherlands through these little buses. The taxi buses operate 24 hours a day, 7 days a week. Please account for extra travel time when riding with other travelers. There are always Schiphol Travel Taxis available at the airport. That way, you can access many places in the Netherlands through these little buses. The taxi buses operate 24 hours a day, 7 days a week. Please account for extra travel time when riding with other travelers.
If you want to get on your way with the ultimate in convenience – like when you have an important appointment or want a little extra travel comfort – you can travel in a luxury Schiphol Business Taxi. Professional drivers, luxury cars and everything arranged perfectly. Make an easy online booking and the taxi will arrive right at your door, so you'll get to your destination feeling great.
Public transportation Rotterdam
RET N.V. is the public transport company of the Rotterdam city region which offers buses, trams, metros and Fast Ferry service to more than 600'000 commuters daily. those who wish to travel within the city must obtain a valid public transport card.
Please visit the RET website HERE for more information on card options and fares.
Metro
Five metro lines (A-E) allow you to travel easily within the city.
Travel times: Mon-Sat 05:30 – 0:15 / Sun 07:30 – 0:15 (times may vary per route).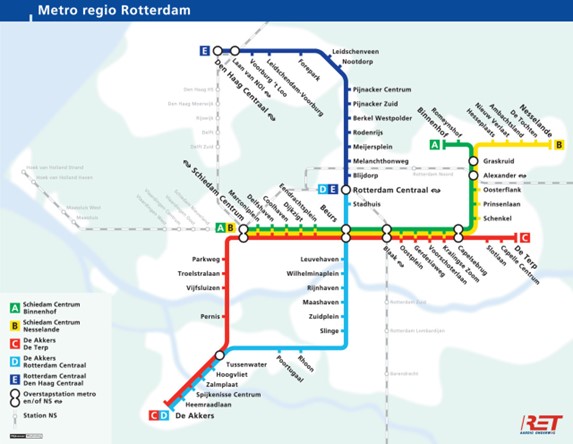 Tram
Tram lines 2, 4, 7, 8, 20, 23, 24 and 25 all travel through the center and conveniently pass through the Central station.
Bus
The bus is a great way to travel to/from the center to city districts, neighborhoods and the greater metropolitan area.
More information on all means of public transportation can be found RET's website
The city of Rotterdam wants everyone to be able to travel by tram, bus or metro. This includes the visually impaired and people who are dependent on a wheelchair or walking aid. In order to make the metro stations accessible to all, all Rotterdam station are equipped with wheelchair ramps, lift and escalators. Buses, including the BOB buses and the RET trams, all offer low boarding platforms for easy access. This makes it easier for people with impaired mobility to get on and off.
Ferry
Ferry access from Maassluis and Rozenburg leaves every 20 minutes. Please see the schedule Here.
Taxis
Rotterdamse Taxi Centrale (RTC): +31 10 – 462 60 60
Rotterdam Airport Taxi: +31 10 – 262 04 06
Taxi St-Job: +31 10 – 425 70 00
Stadstaxi Rotterdam: +31 10 – 818 28 23
Fietstaxi (a kind of covered bike rickshaw): +31 10 – 411 02 22 of +31 6-152 95 901